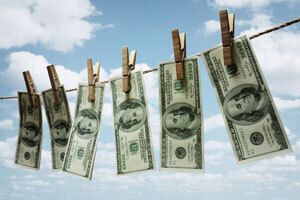 MONEY LAUNDERING ATTORNEY
Money laundering is considered a "White Collar" crime that violates both State and Federal laws. Under 
Texas law
, Money Laundering occurs when a person knowingly handles criminal money, supervises the transactions of criminal money, invests criminal money or invests "clean" money into a criminal enterprise. (A common example is when a person uses a legitimate business to "wash" their money to conceal its illegal source.) If you or someone you love are facing accusations or charges, reach out to an accomplished Tyler Money Laundering Attorney today. It could mean all the difference in your case.
What is "Criminal Money"?
Criminal money is money that knowingly comes from criminal activity that is a Felony offense, or an offense punishable by a year or more in jail. In other words, 
Money Laundering
 is committed by keeping, spending, transferring, or investing money that they know came from criminal activity. The exact nature of the criminal activity does not need to be known, just the fact that the money is coming from some illegal source. If an Officer or someone acting at the Officer's direction has informed the defendant that the funds are from criminal activity or are intended to help commit a criminal activity, the defendant will be presumed to have knowledge.
If the money from the criminal activity in question is related to a course of conduct, the laundered money can be added together thus, the aggregate amount of money laundered can be used to sentence someone to more jail time, even if the money came from multiple sources. This is a charge that can be very complex in nature. You need the skilled legal guidance from an experienced criminal defense lawyer like Erick Platten.
Penalties for Money Laundering:
If the value of the funds is between $2,500 and $30,000, it is a State Jail Felony punishable by up to 2 years in jail and a fine of up to $10,000.
If the value of the funds is between $30,000 and $150,000, it is a Third Degree Felony with penalties of up to 10 years in prison and a fine of up to $10,000.
If the value of the funds is between $150,000 and $300,000, it is a Second Degree Felony punishable by up to 20 years in prison and a fine of up to $10,000.
If the value of the funds is $300,000 or more, it is a First Degree Felony and punishable by 5-99 years or life in prison and a possible fine of up to $10,000.
Whether federal law applies to a case will also affect punishment. Punishment under the federal Money Laundering statutes per charge is 20 years in prison and either a $500,000 fine or a fine worth double the amount of money that was laundered, whichever is greater.
DON'T DELAY, CONTACT AN EXPERIENCED MONEY LAUNDERING ATTORNEY TODAY!
If you are being accused of Money Laundering, you need an attorney who understands how to defend your case.  Erick Platten is a seasoned trial attorney, who will fight for you. To learn more about your options, 
call our office
 today at (903) 593-9100 to schedule a free confidential consultation.